Jessica Zelinka, 2 Time Olympian
Heptathlon and 100m Hurdles, former Canadian Record Holder Heptathlon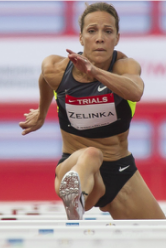 "Les shows a great amount of respect for his athletes, honors our time and efforts, always has a plan and intention for us and communicates openly and honestly.
I moved to Calgary to work with Les when I was twenty. Ten years later, I had two Olympic games under my belt, a Canadian record and several medals from international competitions. That's what can be seen on paper. What people don't get a chance to see is that in the decade of hard work we put in together, as we grew together, we also at times failed together and we made changes and adjustments along the way. Being at the Top in the World is not an easy feat. Les was able to be patient and nurturing during the times I needed it (in addition to me having a baby between the two Olympics!), push and challenge me, encouraging me to take risks and to trust myself. We developed an open an honest communication where I always felt safe to explore new boundaries and make mistakes in order to learn and grow.
When respect is mutual between a coach and an athlete, that is when you have outstanding success!"
Michael Smith, 3 Time Olympian
former Canadian Record Holder Decathlon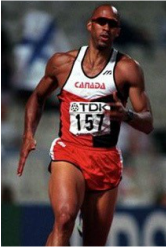 "If you are fortunate enough to be a talented athlete, the most important variable regarding your success on the playing field is a COACH.
It was 1994 and I was 26 years old, in the middle of my prime as an Olympic Athlete. I had been competing the world stage for 8 years and I knew I had to reinvigorate my passion and drive for my sport.
So, I moved to Calgary because I had the opportunity to work with Les Gramantik. In my opinion, Les is one of the best master coaches in the country (if not the world) who has an extremely strong background and capability of developing athletes. Les coaches several Canadian record holders in athletics, not just decathletes, heptathletes or track and field...just simply ATHLETES.
I became the best throwing (shot put, discus, javelin) decathlete of all time because Les got me healthy, fit, fast and strong.
I travelled the globe with Les where we went on to experience the successes and challenges of athletes together. I am very fortunate to still call him my coach, friend and a great asset to the world of sport."